VIDEO BTV
The Members of Sport Lisboa e Benfica elected, this Wednesday, the Governing Bodies for the four-year period 2020-2024. The Electoral Meeting took place in the 25 polling places in mainland Portugal (8h00-22h00), it was the most participated ever and resulted in the re-election of President Luís Filipe Vieira (62.59%) for a sixth mandate.
Speech of de President of Sport Lisboa e Benfica, Luís Filipe Vieira.
"The Benfiquistas gave a unique demonstration of vitality. (...) The country today witnessed the largest electoral demonstration of a club in Portugal. My first word goes to the Benfiquistas and to the example they have given today. I am proud to lead a club with this capacity of mobilization and with this militancy."
"We are stronger together. We are stronger when we do not divide! It is one of the most important challenges for the next four years."
Board of Directors| President: Luís Filipe Vieira; Vice-president: Rui Costa; Vice-president: José Eduardo Moniz; Vice-president: João Varandas Fernandes; Vice-president: Domingos d'Almeida Lima; Vice-president: Fernando Tavares; Vice-president: Sílvio Cervan; Vice-president (deputy): Jaime Antunes; Vice-president (deputy): Rui Manuel do Passo.
General Meeting Board | President: Rui Pereira; Vice-president: António Andrade; 1st secretary: Pedro Pita e Cunha; 2nd secretary: Miguel João Ferreira; Secretary (deputy): Rodolfo Mascarenhas Lavrador.
Fiscal Council | President: Fernando Fonseca Santos; Vice-president: João Albino Augusto; Member: Gualter Godinho; Member: José Manuel Apleton; Member (deputy): João Carlos do Paço.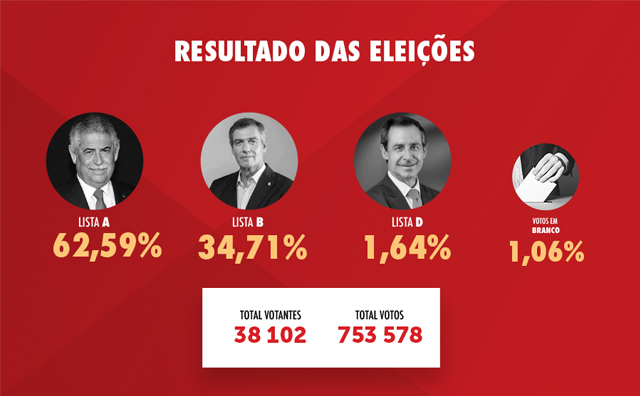 In this historic electoral act, which registered a record number of voters, with 38 102 voters, Luís Filipe Vieira, leader of List A, deserved the vote of 22,787 Members, out of a universe of 471,660 votes (62.59%). João Noronha Lopes, for the B List, had the preference of 14 337 members, in a universe of 261 574 votes (34.71%). And Rui Gomes da Silva, for the D List, deserved the choice in the polls of 603 Members, in a universe of 12 341 votes (1.64%). Total number of members who voted blank: 375 (1.06%).
Photos: Cátia Luís and João Paulo Trindade / SL Benfica